This tour was sponsored by Pursuit Collection, opinions are my own.
Step back in time and tour historic Banff in a 1930s-inspired open-top touring coach. I enjoyed this newest experience and found it a great way to see the highlights of Banff while listening to stories of legendary characters told by a tour guide in period costume. From entertaining stories of the Brewster brothers to stunning views of Tunnel mountain, Surprise Corner and the Mount Norquay Lookout, I was not disappointed!
On this tour, we stopped for great photo opportunities—I loved being able to stand up and take pictures through the open roof when we stopped at viewpoints. This is a completely different adventure even if you've visited Banff before, and you may walk away with a renewed interest in the area's history and speak a new 1930s lingo…hoka hey (let's go/let's do this!).
History
The open-top coaches were inspired by Jim Brewster's (Brewster Sightseeing) "Old White" open-top bus that toured visitors around the streets of Banff in the late 1930s. This restored automobile is the inspiration behind the new Open Top Touring experience. The brand new coaches are a modern twist on Old White, with all the updated safety measures in place.
Vintage-Inspired Coaches
From the retro curves and lines of the coaches to the leather interior, a tremendous amount of planning has been put into the design of the new coaches. Each row of seating has its own door and open roof space so you don't miss a thing. If you're vertically challenged, like me, you can step up onto the seat for the perfect shot of stunning Banff scenery.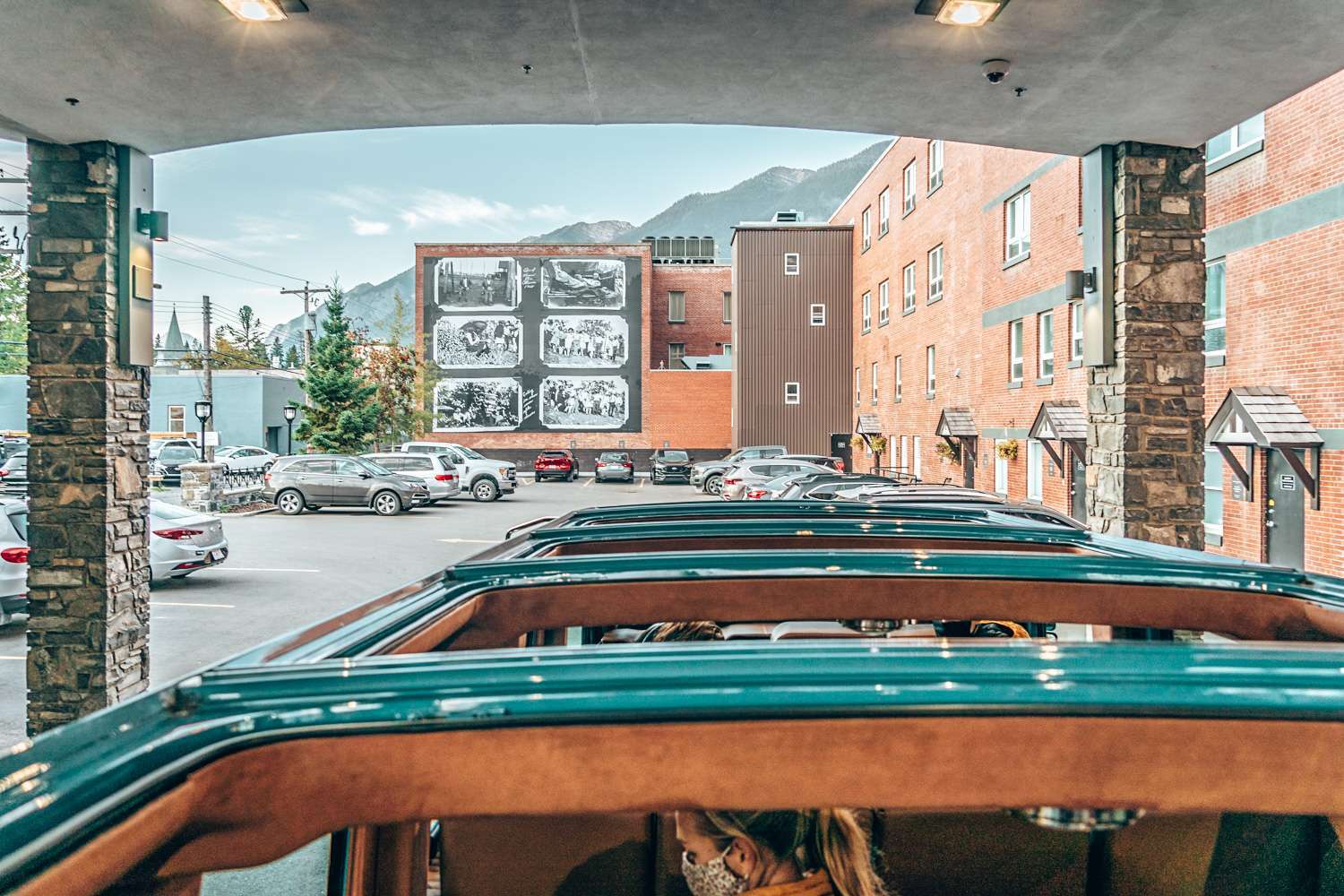 You don't need to worry about COVID-19 safety on this tour. The vehicle's touchpoints are sanitized before each tour, the guests must wear masks and are social distanced (which also makes for better photo opportunities). You can read more about the safety promise and sanitization protocols on their website and while you're there, book your adventure! There isn't much time left to book for this season, as after Canadian Thanksgiving (October 12, 2020), it gets a bit too chilly to have the roof open! Grab your spot today! Book here or message me to book it for you!
*My personal recommendation is to stay at the Mount Royal Hotel right downtown Banff. The Open Top Tour leaves from this location and it's also within walking distance of many restaurants and shopping.
This tour was sponsored by Pursuit Collection, opinions are my own.