My visit was sponsored by Rocky Mountaineer, opinions are my own.
Does your Canadian bucket list include a luxury rail tour through the Canadian Rockies? If you said "yes", like most (including us locals) then this is the vacation for you!
I had the pleasure of being a guest of Rocky Mountaineer on the First Passage to the West route from Vancouver to Banff. I have driven through these areas a number of times but travelling by rail is so different! I soaked in our unforgettable British Columbia and Alberta scenery from a new perspective. Relaxing in my heated recliner in a Gold Leaf bi-level car, I was in awe of scenic views through the panoramic glass-dome coach.
A Royal Welcome
Before I get too far into the details of my trip, let me tell you that everything about Rocky Mountaineer is first-class. From first contact to my departure date, everything was looked after for me including a detailed itinerary customized specifically for me and included flight and transfer details. Upon arrival at the Vancouver airport, I was greeted by my Star Limo driver at Baggage Claim, and he immediately assisted me with my luggage and escorted me to the car…a Mercedes! At this point I was quite impressed and didn't think to take photos.
Vancouver Accommodation
My stay for the first night of this journey was at the luxurious Fairmont Hotel Vancouver. Our group met over some delicious appetizers created by the chefs at the Notch8 Restaurant & Bar in the lobby of the Hotel.
The Fairmont Hotel Vancouver is in a great location right downtown Vancouver. When I arrived, there was a Jazz Festival happening in front of the Art Gallery, so I listened from my room while I freshened up. There are so many great places within walking distance from the hotel, including Granville Island Public Market where you can shop a wide variety of handcrafted products, baking, fresh produce, and listen to live music while you eat your lunch by the water.
Day 1: Vancouver to Kamloops
Our adventure started with a ceremony and an "all aboard" call. The first leg of my journey was from Vancouver to Kamloops—from the humid ocean-side city of Vancouver to the semi-arid climate of Kamloops in central BC. The scenery changes drastically along the way, all of it beautiful!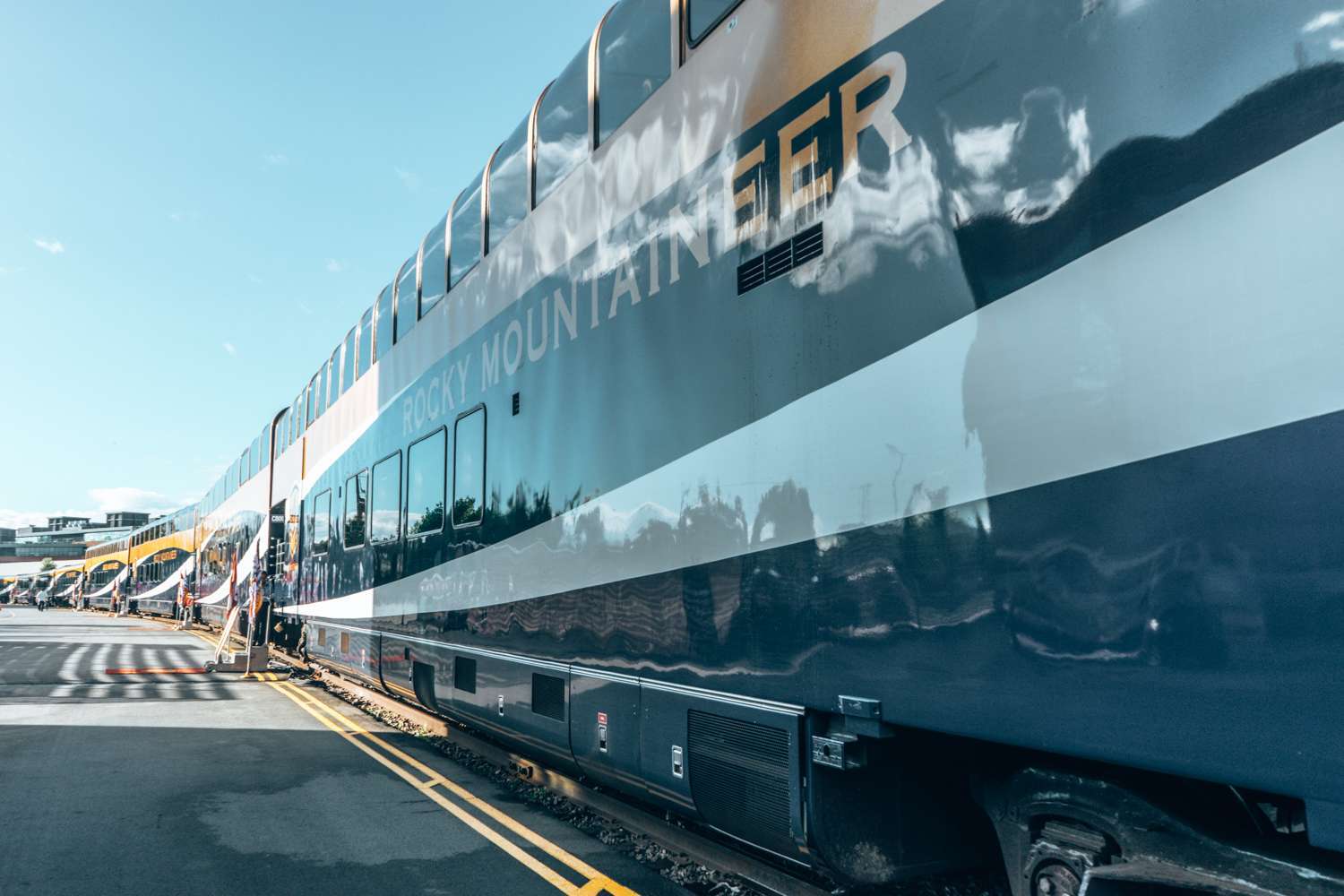 The service on Rocky Mountaineer was beyond expectation. Our two hosts were the best! They looked after all of us including snacks and drinks, as well as announced historic points of interest and a variety of wildlife to watch for. I'm sure everyone's goal was to see the biggest, baddest grizzly, a moose, and a herd of elk, but on this trip I don't think the wildlife received our memo. 😉
I spent most of my two days onboard Rocky Mountaineer between my heated recliner and the open viewing platform, camera in hand, watching for the elusive wildlife. I was hoping to see giant grizzly bears, black bears, and elk, but it wasn't meant to be on this trip. Some passengers saw an elk but I missed it. I guess I just need to go back again soon!
If you have mobility issues, you have nothing to worry about in choosing the GoldLeaf Service. There's a lift and the hosts will assist you as often as you need.
"On today's journey you will see dramatic changes in scenery, from the lush green fields of the Fraser Valley, through forests and winding river canyons surrounded by the peaks of the Coast and Cascade Mountains, to the desert-like environment of the BC Interior." ~ Rocky Mountaineer
Kamloops Accommodation
With approximately 600 people on one train, not everyone stays in the same location. My stay was at the Coast Hotel Kamloops. I was impressed that my luggage was waiting for me in my room, how efficient!
Rocky Mountaineer's staff thought of everything, including a shuttle for guests to explore the city at their leisure. We jumped on the shuttle, walked around downtown and ended up at The Noble Pig Brewhouse for dinner. Have you tried deep-fried pickles? Many say that the Noble Pig's deep-fried pickles are the best!
If you are looking for more information about things to do in Kamloops and area, including Sun Peaks Resort, search my blog and you'll find a number of them.
Day 2: Kamloops to Banff
Rise and shine for an early start to Day 2 on the train! Everything is so well organized that we simply walked out of the hotel room and boarded our shuttle for the train. Magically our luggage was waiting for us in Banff in our hotel room later that evening.
On this leg of our journey, we travelled through some more amazing scenery of ranchlands, Craigellachie, where the last spike of the Canadian Pacific Railway was driven, Rogers Pass, Kicking Horse Canyon, through the Spiral Tunnels, and into the Canadian Rockies. We also travelled through three national parks in British Columbia into Alberta: Glacier, Yoho, and Banff.


Onboard Meals
I'm sure you are wondering what kind of food is served on the train. Well, I won't keep you in suspense any longer—the chefs create gourmet dishes in the small kitchens that not only taste great but look amazing, too. They are also very careful for those of us with food sensitivities and allergies. The hostesses/servers in the dining car provided superior service and I can't say enough about it.
Banff, Alberta
Our final destination for this journey is Banff in Banff National Park, Alberta. I could easily spend a week here and still not see everything I'd like to. In just one day we managed to cover three highlights close to town, and if you have a car, I have another post about my Banff road trip last October (a bit cooler temperature than this visit).
Where to Stay in Banff
We stayed at the Rimrock Resort Hotel which is located in a great location near the Banff Gondola and the Banff Hot Springs. The Rimrock is built into the mountain and offers amazing views of the Canadian Rockies. I didn't get a chance to try the spa, perhaps next visit!
I feel like I've barely touched on my experience with Rocky Mountaineer. I can truly say that the staff are a pleasure to be around and treat all guests with respect and like royalty. If you get the chance, book a trip…it's completely worth it!
Like this, please pin it!
My visit was sponsored by Rocky Mountaineer, opinions are my own.