"Yes, that's it! Said the Hatter with a sigh, it's always wine time."
― Lewis Carroll, Alice in Wonderland (slightly modified)
I had the pleasure of being hosted by Kate of the Okanagan Wine Festivals Society and participating in their Spring Wine Festival. This was a wonderful opportunity to visit nine of the 40 plus wineries in the Kelowna and Lake Country areas and taste the wide variety of wines that each produces. This is the beginning of the season so I would love to visit again when the vines are full! The wrap-up event, Alice in Wonderland themed "Floral", also offered more opportunities to taste wines from other vineyards we didn't have a chance to visit on this tour.
I felt so spoiled on this tour! The following is an overview of the wineries we visited—some wineries went "all-out" in hosting us, others were simply a tasting—but I recommend booking a tour to taste them yourselves. My favourites are the bubbly rosé and white wines, but others may be more appealing to you!
The Chase Wines/O'Rourke's Peak Cellars
The Chase Wines (now rebranded to O'Rourke's Peak Cellars/O'Rourke Family Vineyards Ltd.) is located in Lake Country, BC situated on a hillside with a beautiful view of rolling hills and Okanagan Lake.
O'Rourke's Peak Cellars consist of Pinot Gris, Gewürztraminer, Riesling, Rosé, Chardonnay and Pinot Noir, all from estate-grown grapes. Our tasting, courtesy of the winery, on the vineyard-side Garden Bistro patio was paired with a charcuterie board of locally-sourced selection of meats and cheeses. My two favourite wines from this tasting are the 2017 Rosé with strawberry and raspberry notes, and the 2016 Gewürztraminer which has more of a tropical fruit yet spicy characteristic.
Ex Nihilo Vineyards
Thanks so much for the wonderful greeting at Ex Nihilo Vineyards!
Ex Nihilo means "out of nothing" The vineyard is a lifelong dream and named after a sculpture that bears the same name, of figures emerging from chaos.
We had a wonderful experience, courtesy of the winery, tasting a variety of wines, from white to red to bubbly rosés, paired with a selection of beautifully prepared food pairings. The chefs at Chaos Bistro created the perfect pairings with a shrimp tostada, flatbread, and a locally harvested charcuterie board.
My favourite wine from this tasting at Ex Nihilo, is the sX Sparkling Tous Rose. "A lovely fresh rose with bright strawberry, raspberry and pomegranate aromas. Boasting notes of rhubarb with a sweet cream finish, this effervescent and off-dry wine has a light sparkle of the frizzante style." 
Indigenous World Winery
When you visit Indigenous World Winery, ask the history of each wine's names, such as Hee-Hee-Tel-Kin and Simo. For me to explain the personal stories would not do justice to the storytelling and pride the management and staff show in their descriptions. Indigenous is the world's first 100% Aboriginal owned winery and is proud of its many award-winning wines, and we were fortunate to sample a number of them compliments of the winery. My favourite wine from this tasting was the Hee-Hee-Tel-Kin White. I just like saying the name.
Even if you choose not to taste the wines, visit the Red Fox Club below the wine tasting room for a delicious lunch from a seasonal local menu.
Andrea Callan, Chef de Cuisine, exceeded our expectations with food pairings. Respecting Aboriginal history, she created beautiful indigenous plates that paired perfectly with our selection of wines during lunch.
The Hatch Wines
Our tasting was courtesy of The Hatch Wines. They offer a quirky and unique variety of wines and it is almost more fun to read all the wine labels and their stories…the Hobo Series, Gobsmacked, and Screaming Frenzy are just a few. Can you imaging bringing a bottle of "Screaming Frenzy" to a book club evening? "Hi there Margaret, I'm bringing a Screaming Frenzy tonight!" That will keep the ladies talking for days!
Little Straw Vineyards
We visited Little Straw Vineyards during the week when the Bistro was closed so we were entertained by the chef hosting our complimentary wine tasting! He had us in stitches we were laughing so hard. Loved it! Two of my favourite wine from this tasting were the 2016 Signature Blend Tapestry (a blend of five white varietals) and the 2016 Estate Vineyards Pinot Rosé which I couldn't resist taking a bottle home with me.
Sandhill Wines
Sandhill Wines is an urban winery in downtown Kelowna. They often have food trucks and a live band Friday nights during Happy Hour. We timed our wine tasting to take advantage of this and enjoyed some great music while finishing our complimentary tasting in the lounge area.
St. Hubertus & Oak Bay Estate Winery
St. Hubertus is a little bit of Europe in Canada. We enjoyed an early morning wine tasting with Andy Gebert before the winery opened for business. He took us for a tour around the vineyard where we could see the variety of vines beginning to grow.
"All wines created by St. Hubertus and Oak Bay are made with estate grown grapes and crafted and bottled on site in keeping with the traditions of an estate winery."
My favourite wine from this tasting, and from the entire tour, is Goddess, a blend of peach and apricot with a bit of citrus. Maybe it's because they state it tastes just like sunshine trapped in a bottle, and if you can't tell from my blog, I love sunshine!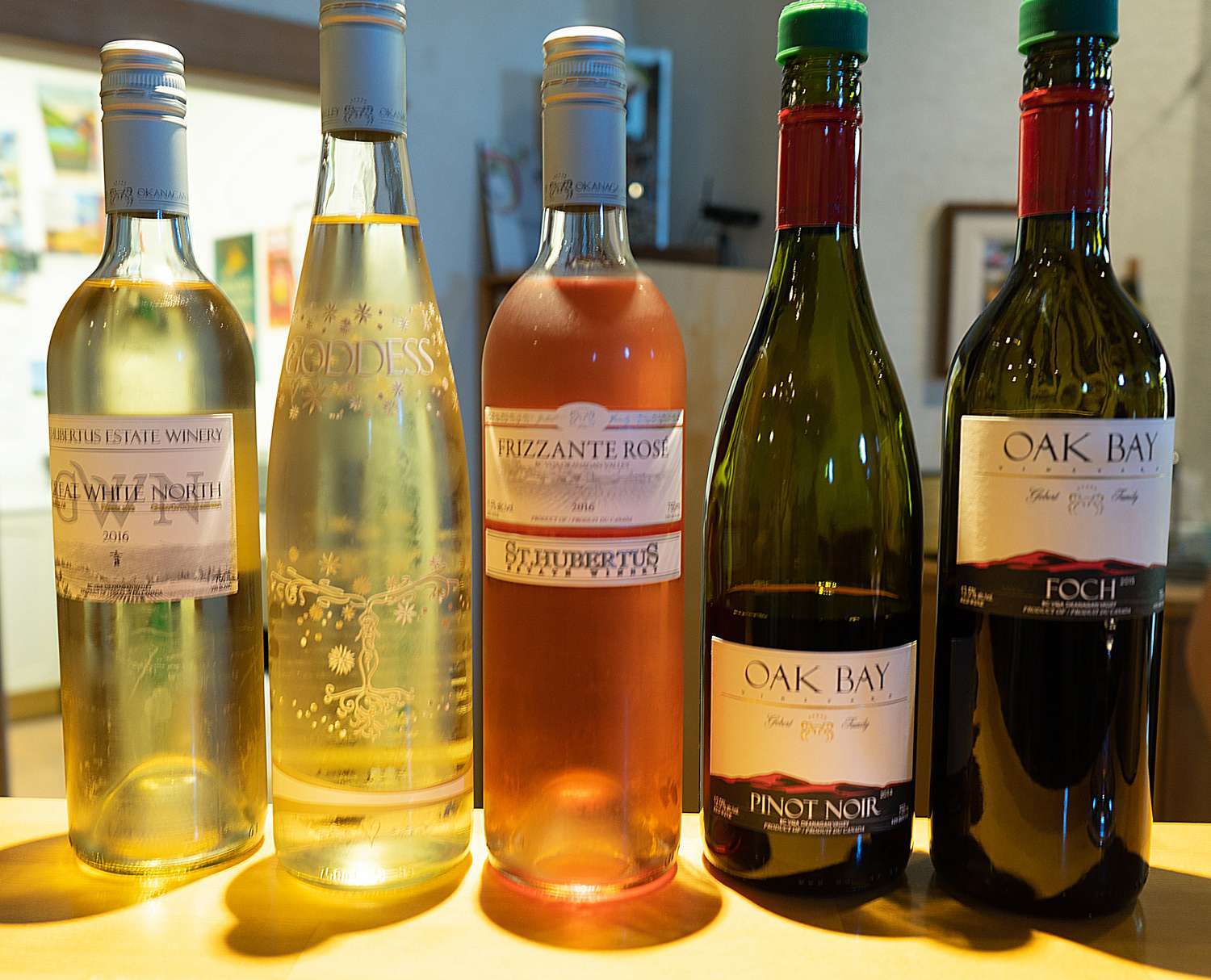 Cedar Creek Estate Winery
Cedar Creek boasts a stunning view of Okanagan Lake, and a beautiful property filled with flowers and a great area for events.
In Fall 2018 the new wine tasting room and year-round restaurant will be ready. In the meantime, you can still enjoy the beautiful property and continue with wine tastings in the current building. We experienced a private room wine tasting of five different wines from white, to red, to rosé, paired with a charcuterie board.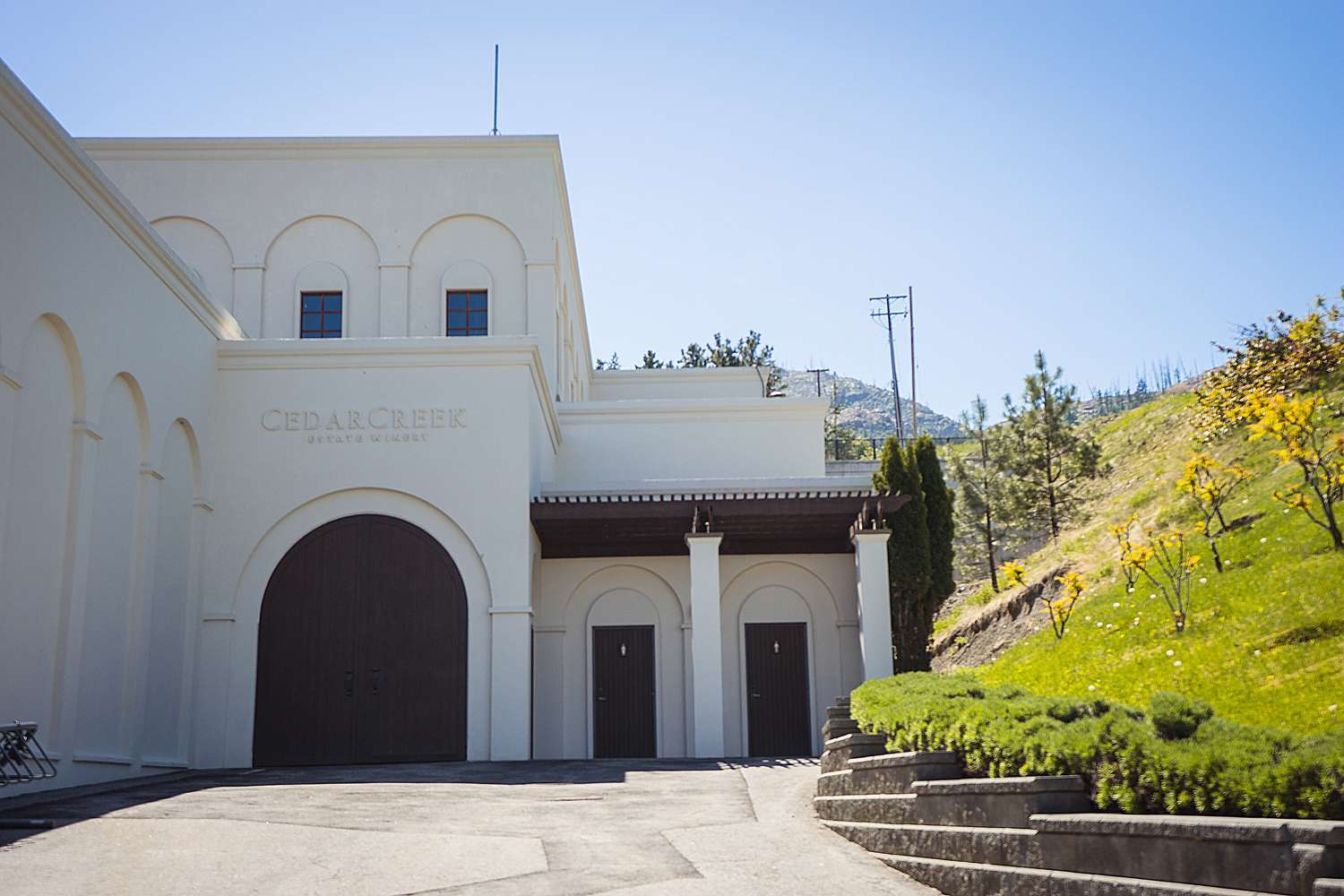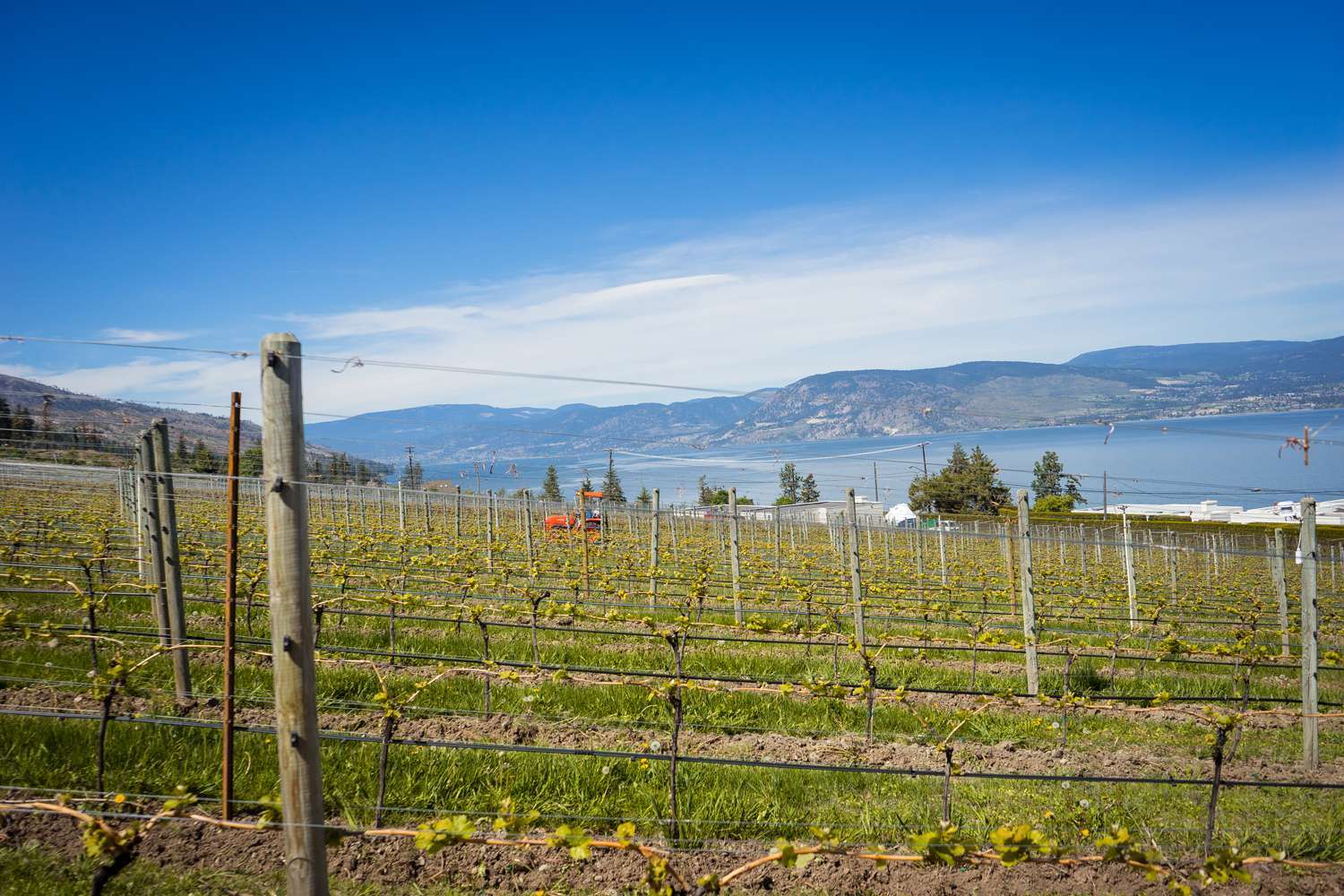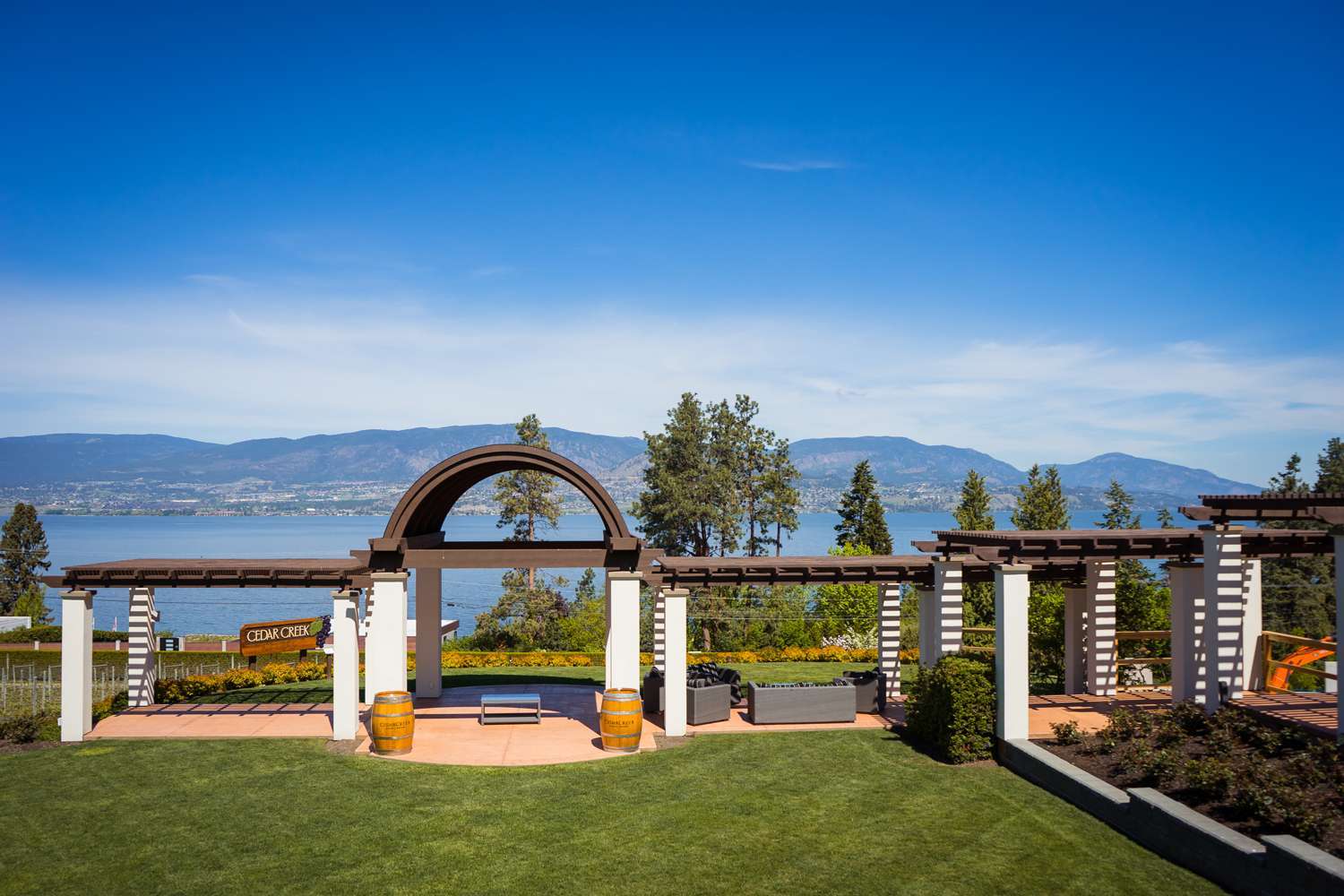 Spearhead Winery
When you visit Spearhead Winery you will notice two spellings of their name. If you have a bottle with the spelling "Spierhead", keep it, it may become a collectable! Ask them for the details of their name change, while enjoying a tasting of a variety of their wines. My favourite from this tasting was the 2017 White Pinot Noir. "It begins with aromas of apples and white peaches, which are echoed on the palate."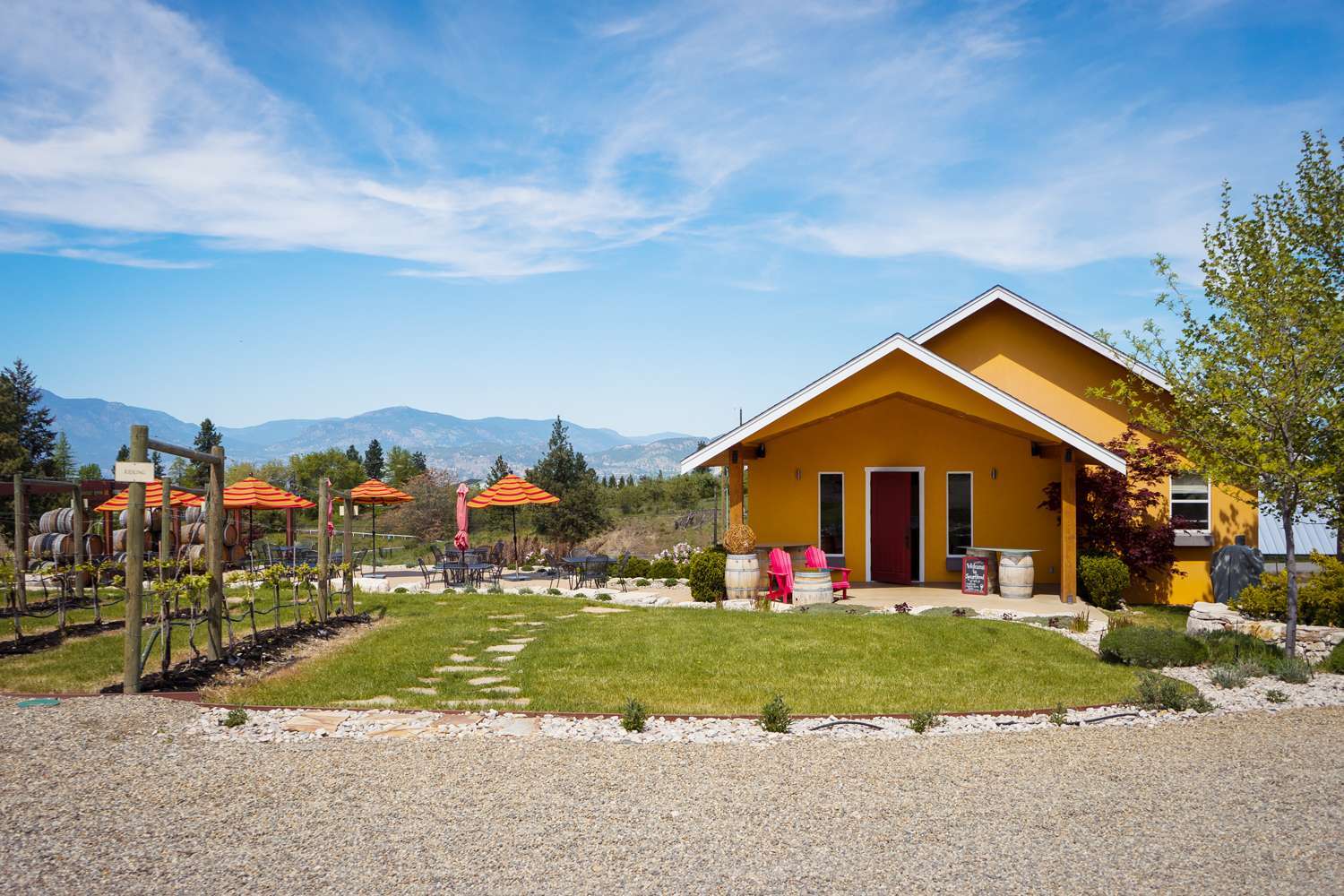 Floral Wine Tasting & Garden Party
The 24th Spring Okanagan Wine Festival, presented by Valley First Credit Union, wrapped up with a stunning Garden party at Better Earth Garden Centre.
"We're all mad here."
The Okanagan Wine Festivals Society team did an amazing job decorating and organizing this large scale Alice in Wonderland themed event. From the keyhole entrance to the giant chess game and live band, there was never a dull moment. Better Earth Garden Centre was a perfect setting for this event with all the colourful flowers in bloom. We tasted more wines, ate fresh treats from the "donut wall", and enjoyed a table full of carefully prepared finger foods. Wonderful job everyone and great to see so many dressed for the garden part in hats and sundresses!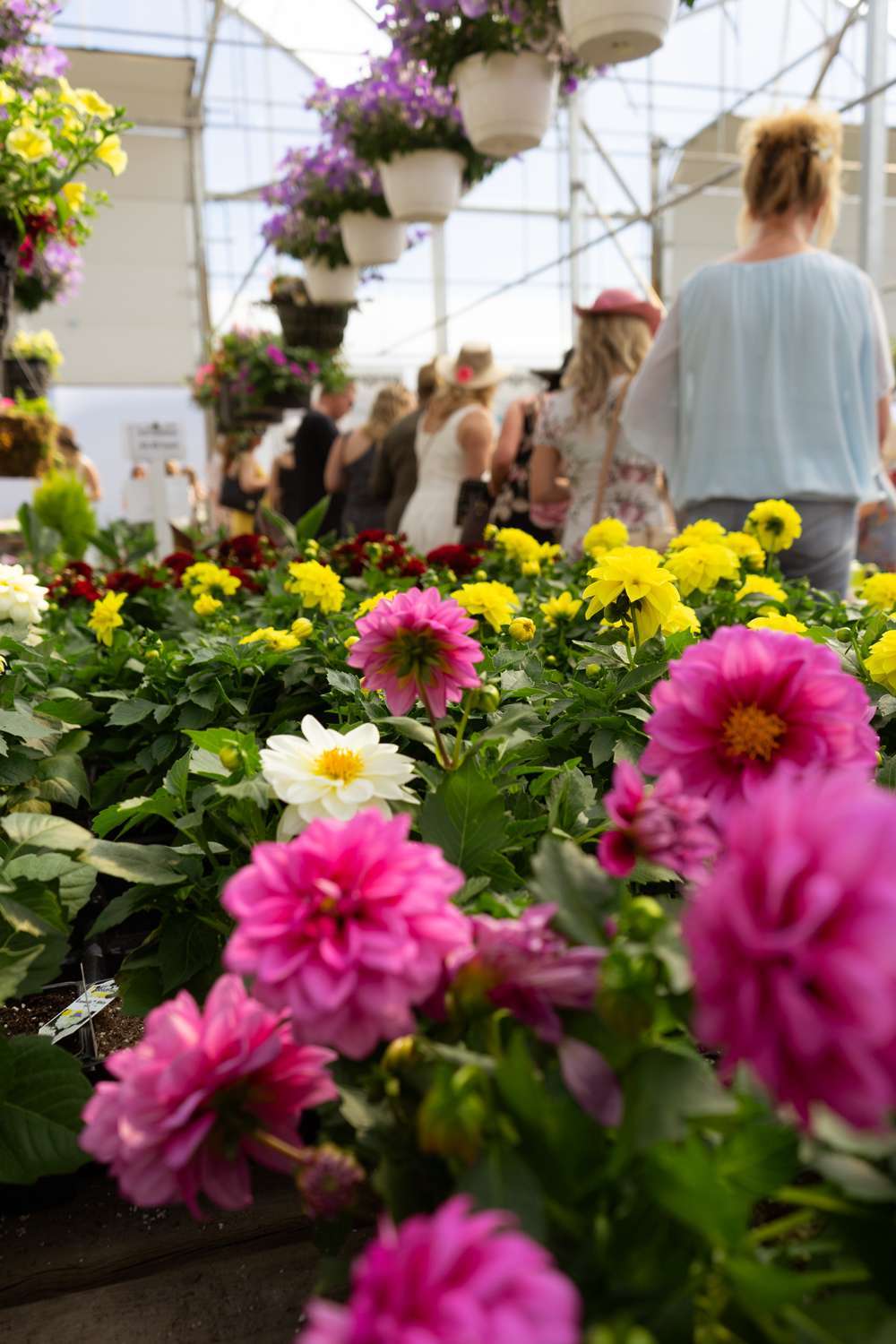 I've written a separate post about the unique eateries we visited while in Kelowna. Make sure you take a look at them!
Like this? Please pin it!