My stay was sponsored by Booking.com. Opinions are my own.
I was recently in Calgary, Alberta for a wedding, and about a week before I went, I was madly searching online for a place to stay near the venue. Booking.com had a list of many choices in the area and I chose Delta by Marriott Hotels Calgary South.
I was happy with my choice as it was easy to find and only a 10-minute drive to the wedding venue. I stayed in the Atrium, a separate building from the main hotel. It was a bit of a "spa-like" feel when I walked in because of the skylights, pool, and hot tub in the main area.
My suite was huge…larger than some of the studio apartments I've recently been looking at, though it didn't have a bathtub. I forgot to check on that when booking and rarely remember that some suites have only a shower. As I don't have a soaker tub at home, that's usually one of the first things I look for in a hotel stay other than wifi and plug-ins near the bed for my laptop and phone. This suite had both of those plus a King bed.
One drawback was that the restaurant in the Atrium wasn't available for meals and this may have been the case because of a conference that was taking place that weekend. It was pouring rain most of the time and I didn't want to walk across the road in the rain to the main hotel. Fortunately, I had access to the Club Lounge and there was a scaled-down buffet breakfast, and a few snacks later on in the day. Room service was also available for a minimal delivery fee. Sorry for making a couple of servers get wet in the rain during my stay!
There's so much to do in Calgary, and I found this hotel was a nice central location. Downtown Calgary and the Calgary Zoo are only a 15-minute drive and there are numerous shopping centres and restaurants nearby, including Chinook Centre—one I have spent a lot of time at.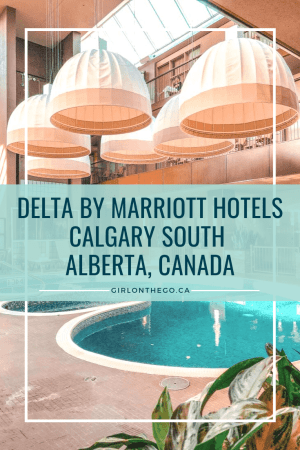 My stay was sponsored by Booking.com. Opinions are my own.